2019-02-12
February 12th Update!
Page 429 is up! (And as always, you're welcome to become a True Magic patron and see the next page early!)
This week's featured SpiderForest comics are fantasy-themed. I haven't had time to read them all yet, but I can wholeheartedly recommend Castoff (which I think most TM readers will love), and I'm looking forward to checking out the others!
SpiderForest Featured Comics - Week 6
Castoff - Vector always dreamed of traveling. He got kidnapped instead. Now, with the help of a short-tempered bounty hunter, a happy-go-lucky cartographer, and many more unlikely friends, he has to try and make it home in one piece.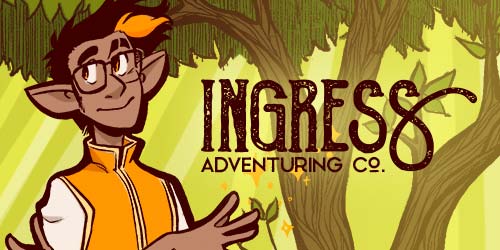 Ingress Adventuring Company - Toivo Kissa is Ingress Adventuring Co., a very small, very wizard-based dungeoneering service. No job is too small, though sometimes his adventures are problems of his own making.
Children of Eldair - A sorcerer saves a girl from flesh-eating demons. After trying to use magic to find her friends, he's trapped in a vision of the past -- one that will help him save the world and the girl he loves.

Featured Friend:

The Adventures of Wiglaf and Mordred

Villain meets hero. Villain tries to lose hero. Hero becomes villain's best friend, whether villain likes it or not -- and that's just the beginning. It's a fun and light-hearted adventure, with an increasingly complex and intriguing story. Go see!